VB sports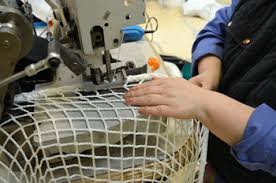 VB Sports was created in 2001 by Loïc Le Goff who had nearly 20 years of experience in net making.
ABOUT US
The company is specialized in the production of :
– Custom-made sports netting,
– Windbreak / Privacy nets,
– Protection netting, Ball stop nets but also scaffolding, dumpster, and aviary nets
It also offers all the netting installation accessories needed.
Its KNOW-HOW, its REACTIVITY, the QUALITY, and the VARIETY of its products (more than 100 different references for one Polyethylene product) are the reasons why it became "THE REFERENCE" on in the professionals market.
The year 2005 marked a new growth with the development of new premises (today more than 1,200 m² of storage) located in Normandy, in the heart of a motorway network and halfway between 2 major port cities: Rouen and Le Havre.
We have also experienced a strong increase in the different types of products we offer. Thus, we have gone from 100 standard product references to 500 and, from 100 custom-made product references to more than 1,000. On average, we process more than 2,000 orders over the year.
Our highly qualified staff, whose number is constantly growing (about ten people), enables us to meet the specific needs and delivery times of each customer. Thereby, our entire standard products range, always available, can leave for delivery on the same day of the order.
Our teams, thanks to their PROFESSIONAL SKILLS and RESPONSIVENESS, offer you a wide range of products: from higher quality standard nets to custom nets. We also carry out quality control at the end of the manufacturing process.
THE VB SPORTS SALES TEAM
Close to you, and thanks to its rigorous organization, our sales team meets all your expectations for each one of your needs. Using flexibility as the main asset in our commercial approach, all our price offers are personalized and revisable according to your needs and orders.
The sales team also takes care of the After-Sales Service, with the same efficiency and performance. Our team will answer all your questions during the day and, if necessary, will resend an order in the evening (for standard products).
THE SEWING WORKSHOP
The workshop is made up of about ten people: all versatile with an additional personal skill.
From mending to the Ball-stop, windbreak, and privacy net specific measures by way of the Basketball, Badminton, and Hockey nets particularities. All this know-how largely contributes to the wealth of our offers.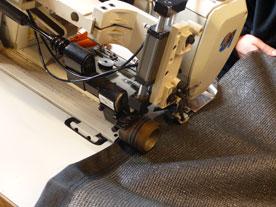 THE QUALITY CONTROL
We have included a specific 'quality control' in our general operating approach. It allows us to know if our products conform with:
To market requirements
Our customers' requests
The applicable legislation
The company's specifications