VB sports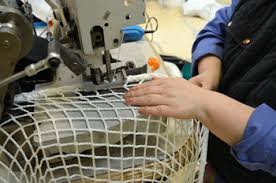 Fort de près de 20 ans d'expérience dans la confection de filet, Loïc Le Goff crée en 2001VB SPORTS. Petite présentation.
L'entreprise est spécialisée dans la réalisation de :
– Filets de Sports Sur Mesure,
– Filets Brises Vue/Vent,
– Filets de Protection, Pare Ballon, d'Échafaudage, Benne, Volière.
Elle propose également tous les accessoires qui serviront à la pose de vos filets.
Its EXPERTISE, its RESPONSIVENESS, the QUALITY and the VARIETY of its products (more than 100 different references on the same product in Polyethylene) have made it "THE REFERENCE" on its market of professionals.
2005 marks a new expansion with the development of new premises (today more than 1200 m2 of storage) located in Seine Maritime, in the heart of a motorway network and 2 major port cities: Rouen and Le Havre.
We have also experienced a strong increase in the different types of products we offer. We have gone from 100 references of standard products to 500 and from 100 references of processed products to more than 1000 references. On average, we process more than 2000 orders per year.
The highly qualified staff, whose number is constantly growing, (about ten people) allows us to meet the specific needs and delivery times of each customer. Thus, our entire range of standard products, available immediately, can be delivered the same day the order is placed.
VBSPORTS is also organized in 2 sectors NORTH – SOUTH and allows its customers to benefit from a single contact per sector, which accompanies and advises him from the issuance of the estimate to the delivery of products.
Our teams, thanks to their EXPERTISE and their RESPONSIVENESS, offer you a range of multiple products: from standard nets to custom-made nets of impeccable quality. We also carry out a quality control at the end of the manufacturing process.
VB SPORTS COMMERCIAL TEAM
Close to you, and thanks to its rigorous organization, our commercial team meets all your expectations for each of your needs. Flexibility being at the heart of our commercial approach, all our price offers are personalized and revisable according to your needs and orders.
The commercial team also takes care of the after-sales service, with the same efficiency and performance. Our team answers all your questions during the day and, if necessary, sends an order in the evening (for standard products).
THE FABRICATION WORKSHOP
A dozen people make up the workshop: all multi-skilled with an additional skill that is their own. From splicing to the specific measurements of ball stop and windbreaks, as well as the specificities of Badminton, Basketball and Hockey nets. All these expertise contribute largely to the richness of our offers.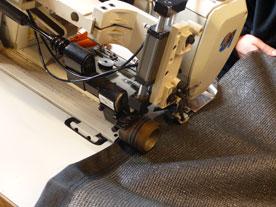 QUALITY CONTROL
We have included a "quality control" in our general operating procedure. This allows us to know if our products are in conformity:
To market requirements
At the request of our clients
To the legislation in force
To the company's specifications